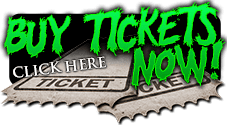 This week only, Frightland is offering our best deal ever…30% off of all 2015 tickets! That's right, Frightland Haunted Attractions in Middletown, Delaware is offering the best deal we'll offer all year as we discount our tickets by 30% off. These tickets are good for any night in the 2015 season, but you must purchase them in advance – the sale ends this Sunday the 29th at 11:59pm.
"With such a good price, I'm sure it only includes one attraction, right?" 
Wrong! These tickets are the same tickets we'll be selling throughout the 2015 season. It includes all 8 of our world famous haunted attractions, including: Horror Hayride, Ravenwood Cemetery, Fear, Zombie Ghost Town, The Attic, Idalia Manor and the Barn of Horrors.
"There's some kind of catch. You're going to want all kinds of information and possibly my first born child, right?"
Wrong again, dear Frightland Fan! The only thing you need to give is your purchasing information as per usual. There is no catch. For our 19th year, we wanted to offer something special to our dedicated Frightland fans. What is better than coming to Frightland and saving money?
"I'm sure you're going to make it difficult for us to actually purchase these tickets, right?"
Nope! You purchase your tickets via our website just as you always have done if you choose online ticketing. Simply go here to purchase your 2015 Frightland tickets now!
"Is there anything I'm right about?"
Well, yes! You are right for purchasing your tickets early to take advantage of this deal! So buy your discount tickets – the 8 Attraction FrightPass or the 8 Attraction RIP FrightPass – either one at 30% off.
We can't wait to show you what we've got in store for the 2015 season. We have a feeling you're going to love it!
Happy Hauntings and we'll see you September 24th, 2015!
---