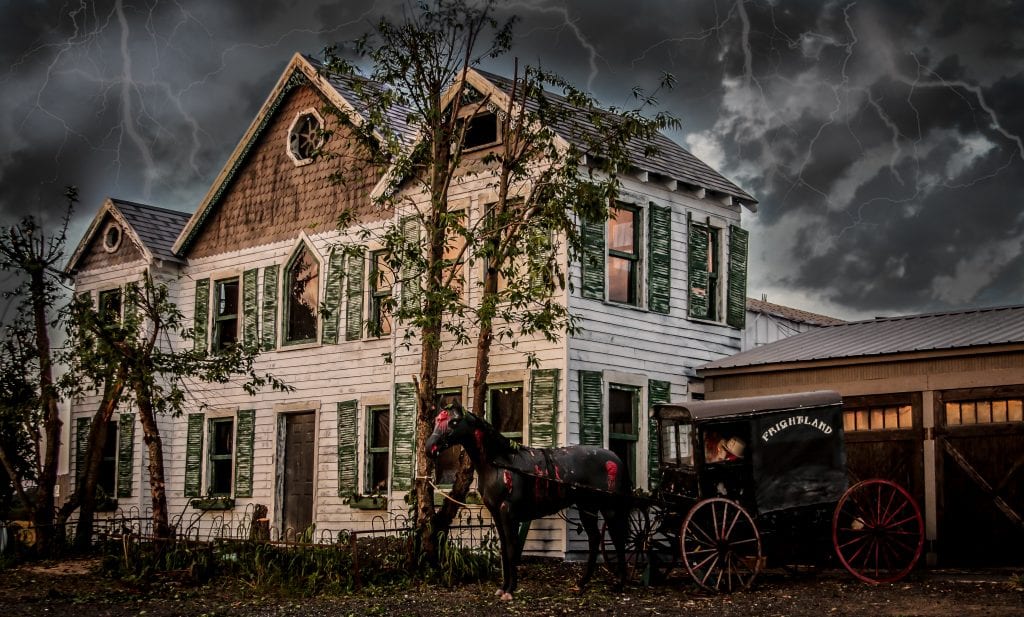 FRIGHTLAND HAUNTED ATTRACTIONS has made numerous "Scariest Haunts in the United States" lists including Travel Channel, Forbes, Popular Mechanics and Huffington Post.
MIDDLETOWN, DE.  August 13, 2018 – Frightland Haunted Attractions will open its creaky gates for its 22nd season on September 28, 2018. With 8 unique haunted attractions covering over 350 acres of farmland, Frightland will once again be the fear destination for the Fall.
After breaking attendance records in Season 21, how will the Delaware landmark top itself? "We've been working every day since February on building the most horrifying show we've ever had.", says Phil Miller, co-owner and creative mastermind of Frightland. "We've added a ton of terrifying props, unnerving scenes and startling scares. We have so many other surprises in store for our guests. This really is a culmination of 22 years of scaring our customers".
Victims are in for hours of terrifying fun. Ride through 350 acres of pure terror on HORROR HAYRIDE. Walk amongst the undead in RAVENWOOD CEMETERY. Come face to face with your worst phobias in FEAR. Take a stroll with the spirits of the GHOST TOWN. Find your way through the pitch black darkness of THE ATTIC. Meet Dr. Idalia and his monstrous minions in IDALIA MANOR. Scuttle through the centuries old barn in THE HAUNTED BARN. Serve your time with the inmates in ZOMBIE PRISON. All 8 of Frightland's haunted attractions are uniquely designed to scare you to your very core. Beginning October 5th, a FrightPass or VIP FrightPass allows you to enjoy unlimited amusement rides after you have experienced Frightland's attractions.
Frightland has been named one of the top 10 scariest haunted attractions by numerous national outlets including Forbes, Travel Channel, Coaster Nation and Huffington Post. Healthy Aging magazine says, "Frightland is essentially an entire theme park dedicated to haunted attractions". Popular Mechanics said, "The Delaware farm that hosts Frightland has a story to tell, and like all good tales around Halloween, it's scary as hell."
Frightland's opening weekend will be Friday September 28th and Saturday September 29th. The amusement park opens the following weekend, Friday October 5th. The amusements include multiple rides, games and carnival food; while Frightland's resident DJ of Above & Beyond Entertainment entertains the crowd on the main stage. Check in at Elyk Studios photo booth to receive a free souvenir digital photo. The Frightland Little Shoppe of Horrors store will be selling souvenir merchandise.
Popular discount theme nights returning: First Responders Appreciation Night (October 7th), College Night (October 14th), High School Night (October 18th), Military Appreciation Night (October 22nd), State of Delaware Employee Night (October 25th), Fraternity & Sorority Night (October 28th).  Discount coupons will be available online and at participating locations of Taco Bell, Subway and Wawa in the tri-state area.
As always, 100% of the money raised from Frightland parking fees goes directly to Leukemia Research Foundation of Delaware. Frightland will be open every weekend and select weeknights through November 3rd, 2018.
####
Frightland
309 Port Penn Road
Middletown, Delaware 19709
www.Frightland.com
For additional information, press materials or other media related requests contact Kyle McMahon at 302-722-6749 or via email at [email protected]
---