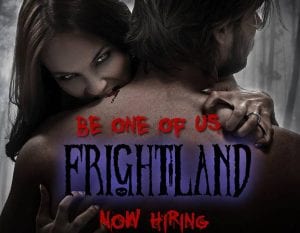 Frightland is now hiring for the 2015 Haunting Season! Yes, you heard that right horror fans: Frightland is now hiring! If you have a love of horror, haunted attractions, acting or just want to scare strangers, then we have a job for you here at Frightland Haunted Attractions in Middletown, Delaware!
The process began in July when we begin our first interviews and auditions. Rehearsals begin in September before our opening weekend  September 25, 2015. Our season runs until the first Saturday in November. That's over a month of scaring the pants off total strangers! We are looking for actors, make up artists, tractor drivers, wagon riders and support staff. While this is a job, it just may be the most unique job you'll ever have. Take our word for it.
If you're interested in joining the Scream Team at Frightland Haunted Attractions and becoming a part of a nationally recognized Haunted Scream Park, go to the Employment section of our website and apply today. No experience is necessary as you will be trained, but a love of all things horror is a huge plus.
We hope to see your application in our box!
Happy Hauntings!
---