We are proud of our partnerships with the following fine businesses, and thank them for their support. To get more information, click on the logo to visit their site.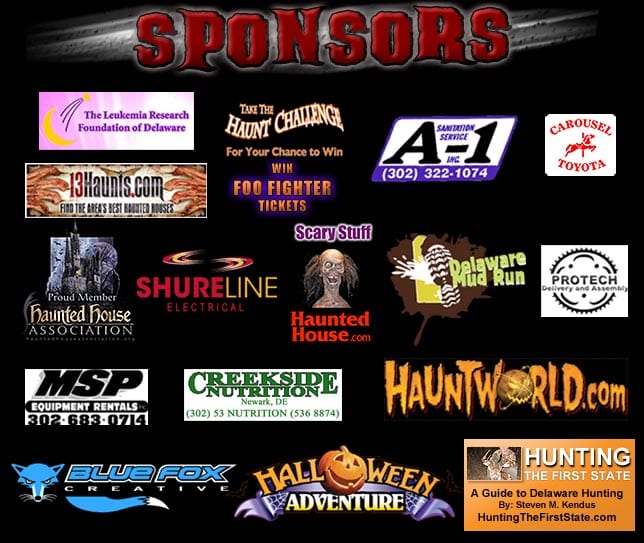 If you are a business interested in reaching nearly 500,000 people, we are happy to speak with you to discuss a tailor made sponsorship package for you. Please e-mail [email protected] for more information.
Interested In Becoming A Frightland Sponsor?
Expand Your Company's Exposure
Frightland, Delaware's largest haunted attraction, is currently looking for sponsors to enable us to offer our loyal customers an improved experience. We are offering a unique opportunity for companies to extend their marketing and to support their community! Frightland entertains over 30,000 customers during our 18-day season! The 60,000 vehicles a day that travel Route 1 and Route 13 make Frightland highly visible and the perfect place to advertise your business!
Sponsor Frightland:
"YOUR COMPANY presents Frightland Haunted Attractiond!" Your name and logo would be on every piece of literature, radio, online and print advertisement as well as on our tickets and website. This prime sponsorship offers the most exposure possible.
Sponsor an Attraction:
With 8 huge attractions designed to keep customers coming back year after year, the exposure at each attraction grows every year along with the opportunity to capture people's attention with your company's name and logo.
Sponsor the Tickets:
Put your name and discount offer on every ticket. A great way to attract attention and track your results.
Sponsor the Website:
Place a link to your company's website or banner on our website. During the haunted season, our website – www.Frightland.com receives over 200,000 hits with 90,000 visits during the month of October!
Barter/Trade:
If you have a product or service that you feel would benefit Frightland and would like to negotiate a trade in exchange for your company's exposure, we will consider all reasonable offers.
For more information email [email protected].