Frightland: Paranormal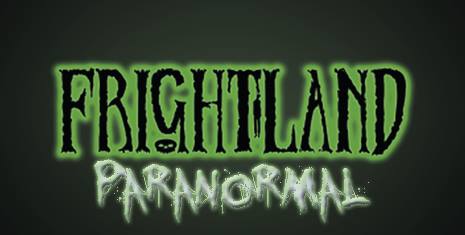 Frightland: Paranormal is a new experience at Frightland Haunted Attractions where you may go on a guided paranormal investigation. What does that really mean? Come ghost hunting at Frightland. You may have seen the documentary short, Frightland: A Paranormal Investigation where evidence of the paranormal and unexplained on the Frightland property were shown. Due to the interest in this side of Frightland, we have created Frightland: Paranormal. There are no actors at all in your Frightland: Paranormal experience. The property that Frightland Haunted Attractions rests on in Middletown, Delaware has a rich, history and documented experiences of paranormal phenomenon. Frightland: Paranormal gives you access to document any unexplainable occurrences you may encounter on your ghost hunting tour.

What To Expect at Frightland: Paranormal
If you choose to join us for a Frightland: Paranormal experience, you can expect to arrive late in the evening during the Frightland season, as your experience will not begin until the haunted attractions at Frightland have closed. You will meet at our Frightland Souvenir Photo Booth by Elyk Studios and check in by the scheduled time. This will serve as the base station for your experience. Groups will be limited to a small number to ensure you get the best experience possible.
You will then be given a brief history of the historic property and hear some of the experiences that our staff has encountered. You will be given safety information, rules and a breakdown of what to expect during your experience. From there you will be guided to the first of the four locations You will be given about 15 minutes to explore each location and take photos, video recordings and audio recordings (electronic voice phenomenon). After you've investigated the four locations, you will be taken back to the base station to regroup and review your evidence. The Frightland: Paranormal experience will last about an hour and 30 minutes total.
There are no "scares" that are set up for you. There are no ghouls waiting for you to walk by. This is not a "haunted attraction" show like our Frightland Haunted Attractions & Haunted Houses. This is a true paranormal investigation and a true ghost hunt.
Since your Frightland: Paranormal experience is 100% authentic, we obviously can not guarantee "results". We can not predict whether the spirits may be active that night or not. Our guarantee to you is that we will never manufacture "scares" on your Frightland: Paranormal tour. What ever happens during each tour is organic and authentic.

What You Should Bring to Frightland: Paranormal
You want to be prepared and get as much out of your Frightland: Paranormal experience as possible. We suggest bringing, at the very least, a cell phone which has a flashlight app, audio recording capabilities and is able to record videos and take still photos.
If you want to come fully prepared, you may bring a digital still camera and / or video camera, a flashlight, laser thermometer or any other equipment you may have to help document your experience.

How To Attend Frightland: Paranormal
The Frightland: Paranormal experience is much different then our traditional Frightland Haunted Attraction shows. We feel limiting groups to a smaller size is best for the experience of each one of our ghost hunter guests. This way, your audio or video footage isn't tainted by another guest. Your ticket  must be purchased in advance by purchasing below or  e-mailing Kyle. Your ticket must be pre-purchased in advance due to the limited amount of slots available for each Frightland: Paranormal event.
The 2016 dates for Frightland: Paranormal are: Thursday October 27th at 7pm and Thursday November 3rd at 7pm. Book your ticket now.

Frightland: A Paranormal Investigation
If you haven't yet checked out the documentary short, Frightland: A Paranormal Investigation, you can view the film below. This was recorded over one extremely extensive paranormal investigation with Diamond State Ghost Investigators in April 2015.